Today I am joined by the delightful Jeffrey Kosh, author of many titles and creator of so much more. Welcome Jeffrey, take a moment and please introduce yourself to the captive audience that you now have before you.
Howdy y'all. I'd like to thank Julianne for this great opportunity to present myself to her audience. I'm a writer, cover artist, part-time actor, and… a digital nomad.
What? You don't know what that is? Well, a digital nomad is someone who decided that he or she didn't need to set roots to work or enjoy life. All that I need is a portable computer and an Internet connection. As a writer or cover artist I don't need an office, so I can travel from place to place and keep on working. Plus, I try to round up the monthly income with local jobs, such as acting as an extra on movies shot on location. I'm currently living in South East Asia, making my base in Ao Nang (Thailand) but I often make trips to Malaysia and I'm planning to move to Laos and Vietnam next year. Am I sure about that? Nope. My life is like that; no certainties, no fixed path. And I love it.
I do not define myself an 'author', but rather a 'Shamanic Storyteller'. I believe that stories are already out there, all I have to do is to listen to their song and put them on paper – or on Word.
I've published 10 books till now, all in the horror genre except one; an erotic thriller.
I tend to be rather eclectic in my writing, being an experimenter I wrote modern gritty stories full of gore, classic literary horror, and adventurous dark tales. Horror is my favorite element, but this doesn't mean I will not write in other genres, as I clearly demonstrated with my erotica novelette.
So now that readers know what it is that you do, tell us about your writing process?
Hard to explain.
First, a story or a character must get inside my mind. Out of the blue.
It happened with almost all of them; they just got inside and refused to let me go until I had written them. Some are weak, and I'm able to shake them off, but others… Well, others will pester me for days, walking back and forth inside my head, banging on walls, and generally making my fun life miserable. I remember writing my first erotica (the only story I planned) and this undead cardinal showed up inside my brain talking in a Lovecraftian way about owls and immortality. I had to quit 'Thrill of the Hunt' for some time to get rid of this monster. The same is happening now with a guy named Arthur Dale.
Hmmm an undead cardinal talking about owls and immortality in a Lovecraftian way? That sounds utterly fascinating! Is there a genre, other than the one you currently write in, that you wish you could break into?
Absolutely. My dream is writing a hard science fiction story and a comedy. But those darn stories out there won't allow me.
Tell us about the 5 books that have influenced you the most, and why?
Frankenstein: or, The Modern Prometheus by Mary Shelley. The book of my life. I often compare the creation of my first novel Feeding the Urge to the unholy efforts of Shelley's scientist. It was an obsession; I had to give life to my creature and did not rest till it was out walking on its own legs.
Headhunter and Primal Scream by Michael Slade. I'm a Sladist, a fan of this great Canadian author (actually a group of writers under a collective pen name) and his detailed description are closer to my writing style.
Sphere by Michael Crichton. I adore Crichton's writing style, but do not like all of his books. Sphere has an excellent plot and some interesting twists. This is how I like Sci-Fi; dark, brooding, and full of marvels.
Darkly Dreaming Dexter by Jeff Lindsay. I admit having read only the first of this charming series for I'm a fan of the TV show. And they differ quite a lot in characterization. However, Lindsay's style is modern, direct, and humorous, something that influenced the second half of my first novel. I've found many similarities between my character of Axel J. Hyde and Dexter Morgan, but Lindsay's character is more 'human' than mine.
Great choices Jeffrey! If you could cast one of your works, who would you choose to play your main characters?
Antonio Banderas is the inspiration for the main protagonist of a piratical novel I'm writing. Penelope Cruz is breathing life into the female heroine, and Michael Mando projected is handsome, but crazy face, into Caliban, the main villain.
As for my published stories, Ian McShane would be a perfect Lodovico Strigidi in 'Stryx' and Brian Austin Green would look great in Axel's role.
What is the first thing you would do if you woke up one morning to find one of your books on the NY Times Bestsellers List?
Wake up my wife and half of Thailand.
So Jeffrey, do you have any vices that you turn to while you are writing?
I drink a lot of coffee and smoke. Yeah, a bad habit, but can't help.
What do you do when you're not writing?
Hiking, Kayaking, lot of photography, and … sex. *Laughs*
Please share with us the first nine lines of your current work-in-progress.
What would you do if you knew you are going to die?
Oh, I'm not meaning in the traditional way; we are all bound to die now or then. I'm talking about knowing the exact hour and day of your departure, and how you're going to buy the farm.
Would you spend your shortening time with your family? Taking care of things—and affections—you took for granted? Making love to your wife every darn day, instead of the usual Saturday night quickie; listening to the rants of your love-struck daughter, and making peace with your ungrateful sister that kicked you out of the family house so many years ago?
Would you spend it by dating as many chicks as possible, one or more a night, or wrecking away your liver with so much alcohol you could fuel all cars in Detroit for a whole year?
Or would you retire to a monastic life, praying every day to repent your sins and for peace in the world? Amen.
Me?
I'm doing nothing special. I'm just wearing my best dress, after shaving myself clean, combing my hair in front of my three thousand dollar mirror, and looking at my tanned reflection.
For I KNOW I'm going to die today.
That was a great introduction to your new story! Make sure that you come back when you release it – please! Thank you Jeffrey for taking the time to answer my questions.
If you would like to connect with Jeffrey, you can find him on his website, his Amazon Author Page, Smashwords, or Goodreads and reminds readers that by searching his name will lead you on many an interesting journey. He works as a cover artist and you can find his samples for authors such as Billie Sue Mosiman, Armand Rosamilia, Suzi M, and Jaime Johnesee here and his official cover art website here. You can also connect with him on Facebook, on both his Author and Personal pages, and on Twitter.
Want a look of some of Jeffrey's work? Let's take a sneak peek at Feeding the Urge and Tales from the Dead…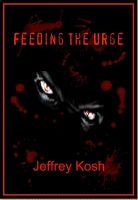 With his job as Assistant Medical Examiner for the County Morgue, Dr. Axel J. Hyde has all the right tools at his disposal to feed his Rider's urge. Traumatized at the age of ten by a pedophile, his soul has developed a hate for rapists, stalkers, and other people who 'live on other's fear'. Yet, it is the urging spirit a real creature from the Beyond, or it is just a mental construct of his subconscious? The novel tells his story, of the compromises he had to deal with to keep living among people he doesn't really understand. Unable to feel, or even to grasp normal human behavior, Axel simulates it.
Cheri Ridge had to be dead by now. Assaulted by a band of ruthless criminals, the young Cherokee dancer had no other choice but to accept a pact with an ancient spirit of Native American legends. She survived at the cost of her own soul. Now, she lives only for revenge; hunting down and killing all those responsible for her 'death'. 
The paths of these two disturbed individuals are going to merge when Cheri comes hunting her tormentors inside Hyde's killing ground.
***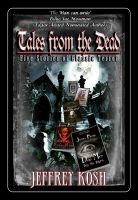 DEAD MEN TELL TALES
Dead men do tell tales in this unique collection of Jeffrey Kosh's best dark stories. For the first time, gathered in a single volume, undying necromancers, vengeful dead, relentless Confederate soldiers, and unliving pirates crowd the same decks.
DEAD MEN TELL NO TALES, BLACK BRIG, THE SOUTH WILL RISE AGAIN, REVENANT, and STRYX
They are all here.
Thanks again to Jeffrey and as a FYI to my readers, clicking on the covers will take you directly to the Amazon page for its respective book.
Don't forget to join my next week when my guest will be Lydia Peever.