This lovely Wednesday, I am joined by Kealan Patrick Burke – an author whose stories tend to scare and make me think all at the same time. Welcome Kealan, why don't you introduce yourself to the captive audience that you now have before you.
I am perhaps best known as the author of The Turtle Boy and Kin, both stories from wildly different ends of the horror spectrum. The former won the Bram Stoker Award back in the day. I've written four novels, dozens of novellas, and hundreds of short stories. I've also edited a few anthologies, acted in a B-movie splatter flick, and I'm from Ireland.
Tell us about your writing process?
I write as much as I can, whenever I can. I don't outline very much. I prefer the more organic process of letting the work lead me rather than the other way around. I self-edit during the writing process to an infuriating degree, something I wish I could moderate.
I'm very much a panster myself and there are times when I'll think a story is going in a specific direction while it's in my head, only to have it take a left turn on me at some point. Is there a genre, other than the one you currently write in, that you wish you could break into?
I don't really think in those terms. If I wrote a good western or crime novel or a science fiction novel, then of course I'd like for it to be appreciated by fans of those genres, but as it stands, I already incorporate the genres I love into the books I write, so the short answer would be: no. I'm quite happy where I am.
I'd have to say that most of your fans are happy where you are as well. Tell me about the 5 books that have influenced you the most, and why?
Ghost Story by Peter Straub
The Black Dahlia by James Ellroy
Lonesome Dove by Larry McMurtry
Boy's Life by Robert R. McCammon
The Road by Cormac McCarthy
The same answer applies to all of the above: They taught me things about writing, about style, about storytelling that I might otherwise never have known, and that I never forgot. Each one of them made me want to be a better writer.
All great choices! If you could cast one of your works, who would you choose to play your main characters?
I've been asked this question quite a lot, and I never have a good answer. Honestly, anyone good. There are way too many subpar horror movies out there these days, so it'd be nice, if one was made of mine (and that's looking likely with a few of them, I'm pleased to say), that they'd get good actors, whether known or unknown.
That's a very fair answer – good actors and a good director are what I would be most concerned about. The best way to get your story noticed by those movie producers types is to get it on a best-sellers list. What is the first thing you would do if you woke up one morning to find one of your books on the NY Times Bestsellers List?
I'd be delighted, do a fist-pump perhaps, and then get back to work. Can't afford to linger on such things for very long. An inflated ego makes my hands too pudgy to type properly.
Do you have any vices that you turn to while you are writing?
I smoke, and wish I didn't, and smoke more when I write. Helps me think. When I find something that's an adequate substitute, I'll gladly make the change, but until then… (cough, cough, splutter).
What do you do when you're not writing, Kealan?
I read, of course, voraciously. I watch a lot of movies, play XBox. I like to take photographs, go to museums and art galleries, travel. Nothing staggeringly abnormal or interesting I'm sorry to say.
Now it's time for the fun part! Please share with us the first nine lines of your current work-in-progress.
This is from the new novel, Night Falls on Memory Lane. It's an extremely rough, just out of the gate first chapter, so don't judge me too harshly on the strength of it:
Insomnia. Sleepwalking through a house of broken glass, is how I once heard it put. Every time you think you're getting somewhere your foot comes down, a shard pierces your skin and brings you rudely back to yourself. But you keep trying because instinct says you must, and your body demands the rest, and so off you go, stumbling through the soporific veils until the glass teeth puncture your flesh again and leave you gasping right back where you started.
For me, this is business as usual. But rather than seeing images of glass bejeweled floors, whenever I came close to drifting off I am quickly slapped back to consciousness by images of the man in the red raincoat, his hand spasming as he is kicked to death on the street outside his house, or of the old woman bludgeoned beneath the clothes line, her gray hair like a bird's nest empty but for a cracked and leaking red egg, or the two children in the bath tub, their lifeless smiles a trick of the water still shifting from their final struggles, or…or…or…
Worse things, in other words, than metaphorical houses with unswept floors.
Awesome excerpt Kealan – thank you! I cannot wait to read this one!! For those of you unfamiliar with Kealan's work, here's a quick look at Kin and The Turtle Boy (Don't forget that clicking on the cover will take you straight to Amazon!)…
On a scorching hot summer day in Elkwood, Alabama, Claire Lambert staggers naked, wounded, and half-blind away from the scene of an atrocity. She is the sole survivor of a nightmare that claimed her friends, and even as she prays for rescue, the killers — a family of cannibalistic lunatics — are closing in.
A soldier suffering from post-traumatic stress disorder returns from Iraq to the news that his brother is among the murdered in Elkwood.
In snowbound Detroit, a waitress trapped in an abusive relationship gets an unexpected visit that will lead to bloodshed and send her back on the road to a past she has spent years trying to outrun.
And Claire, the only survivor of the Elkwood Massacre, haunted by her dead friends, dreams of vengeance… a dream which will be realized as grief and rage turn good people into cold-blooded murderers and force alliances among strangers.
It's time to return to Elkwood.
In the spirit of such iconic horror classics as The Texas Chainsaw Massacre and Deliverance, Kin begins at the end and studies the possible aftermath for the survivors of such traumas upon their return to the real world — the guilt, the grief, the thirst for revenge — and sets them on an unthinkable journey… back into the heart of darkness.
***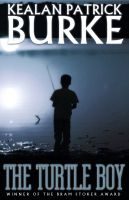 School is out and summer has begun. For eleven year old Timmy Quinn and his best friend Pete Marshall, the dreary town of Delaware Ohio becomes a place of magic, hidden treasure and discovery.
But on the day they encounter a strange young boy sitting on the bank of Myers Pond, a pond playground rumor says may hide turtles the size of Buicks, everything changes.
For it soon becomes apparent that dark secrets abound in the little community, secrets which come cupped in the hands of the dead, and in a heartbeat, Timmy and Pete's summer of wonder becomes a season of terror, betrayal and murder.
Thank you for taking the time to talk to me today Kealan. If you're interested in connecting with Kealan, you can find him at his website, his blog, on Facebook, or on Twitter.
Join me next week when I interview Colin F. Barnes.