"When Morgan receives an anonymous invite to play his favorite mobile word game, he readily accepts. He quickly finds himself wishing he hadn't. As the rules of the game bend and twist, so does his mind. The search to discover the mystery opponent's identity soon becomes his whole world, but some questions are best left unanswered."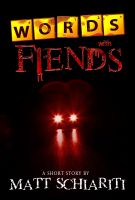 I received this book from the author in return for a fair and honest review. Thank you Matt!
Words with Fiends is a short story written by Matt Schiariti and I will admit that I had no real idea what to expect as I had never read anything written by Matt before. I was pleasantly surprised by the strong voice throughout the entire piece. It's a great story with a solid premise and great timing. I loved the usage of a common cultural experience as a backdrop to the horror contained within. With that connection in place, I found myself really feeling for Morgan, the main character. His self-torture and palpable fear were both very much in tune with the story matter as it unfolded. It's a great short and I look forward to reading more from Matt in the future.
Rating 4 stars
You can find Words with Fiends on Amazon.