Welcome! Today my guest is Eric S. Brown, author of the Bigfoot War series.
Hello Eric, why don't you introduce yourself to the captive audience that you now have before you? 
I'm a horror fan/geek with a pen. I've written numerous books like the Bigfoot War series, The A Pack of Wolves series, War of the Worlds Plus Blood Guts and Zombies, Season of Rot, and Last Stand in a Dead Land to name only a few. My short fiction has been published hundreds of times in the small press and beyond.
Tell us Eric, what is your writing process?
I don't really have a process. I'm one of those "Mr. Mom" guys as I work from home so if you think one can have a "process" with a five month little girl to take care of, I've got a mint condition Captain Carrot and the Zoo Crew issue # 1 I'll sale to ya for about $100,000.
Any takers? Anyone? C'mon seriously, he's trying to move his comic! *wink, wink* Is there a genre, other than the one you currently write in, that you wish you could break into?
Comics. I would give anything to have a shot at writing for one of the "big two".
Comics would certainly be an interesting endeavour – let's hope it comes to fruition one day. Let me ask you Eric, what are the 5 books that have influenced you the most, and why?
Eek. The Keep by F. Paul Wilson, Hammer's Slammers by David Drake, Dead in the West by Joe R Lansdale, The Book of the Dead anthology by Craig Spector and John Skipp, and Dan Simmons' Hyperion. And as a runner up, the best of H.P. Lovecraft. The Keep is the best "period" novel I have ever read. I learned to write from reading David Drake's style of action. Lansdale is the king of horror westerns. The Book of the Dead made me want to write zombies which I spent years doing before Bigfoot came along. Dan Simmons is a genius. And you should NOT need to ask why I included Lovecraft if you're a horror fan.
Nope, I think we all get the Lovecraft reference. What is the first thing you would do if you woke up one morning to find one of your books on the NY Times Bestsellers List?
Continue writing my next book (already in progress). Seriously, I don't think it would really change how I do things at all though I might go begging for work at DC Comics.
Okay it's now time to get down to the nitty-gritty; do you have any vices that you turn to while you are writing?
Coffee, cigarettes,and loud Weird Al or Rush music.
Interesting mix. Eric! I'm not sure about the Weird Al, but then I guess Amish Paradise does elicit a few ideas… Tell us Eric, what do you do when you're not writing?
During those rare moments I get a break in being Mr. Mom for my two kids and am not helping my wife survive being a teacher, I enjoy reading and collecting comics. I am total DC Comics fan. I love a ton of their titles and the Flash is my all time favorite comic book hero.
Zoom Zoom Zooommm (sorry couldn't resist a little Flash humour there!) Please share with us the first nine lines of your current work-in-progress.
I can't do that. The publisher would kill me. LOL. I don't do the whole submission thing anymore. Haven't in years. For better or worse, pretty much everything I write is sold before I start it.
Aww that's no fun, but completely understandable. Since we've dropped a few hints about Eric's Bigfoot War series, how about we go and take a peek?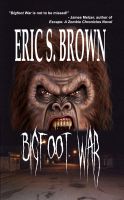 Jeff Taylor was an ordinary boy growing up in the small town of Babble Creek, North Carolina, until one night his life was changed forever when a sasquatch brutally murdered his family.
Taylor fled the town, hoping to leave the painful memory behind.
Years later, after two tours of duty in the Iraq War, he's back in Babble Creek seeking vengeance.
Taylor's lust for the blood of the monster that slew his family sets in motion a series of events that soon has the entire town fighting for its life as a tribe of sasquatches descend from the forests and hills into Babble Creek to declare war upon its citizens.
Babble Creek is about to find out Bigfoot is very real and there's more than one of the creatures that want to fill the streets with blood.
I'd like to thank Eric for being my guest today. If you're interested in any of his books, you can find them on Amazon, Smashwords, and whole host of other sites.
Please join my next week when my guest will be Griffin Hayes!